In the Northern California Coastal town of Trinidad, Turtle Rocks Inn, a warm and welcoming bed and breakfast, was built new in 1995 and designed for each room to take full advantage of the tremendous ocean view.
Located in a wind-protected cove just south of Patrick's Point State Park, the inn is perched on a bluff high above the crashing surf. Each guest room offers a stunning, unobstructed view of the Pacific Ocean with its waves pounding the huge offshore seastacks known, collectively, as the Turtle Rocks.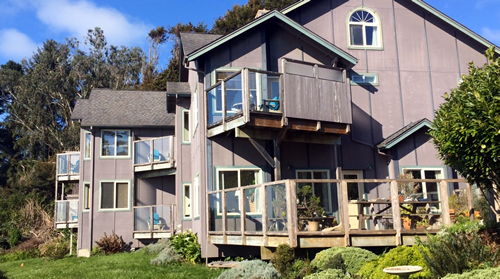 Your room was designed and furnished to be a "retreat-unto-itself" with great space, comfort, and quiet…a wonderful private place that features these special amenities:
Your own private glass-paneled deck overlooking the Pacific.
An extraordinarily large and airy room.
A private bath with oversize tub/shower and locally-made bath gels, salts, and soaps.
A California King-size bed.
Cable stereo TV with remote.
Your own phone with private line and number (all local calls are free of charge).
Double-walled construction insures privacy and quietness.
Contemporary furniture and antique amenities blend for an eclectic atmosphere of warmth and comfort.
High Speed Wireless
After checking into your room, you might visit the inn's self-serve area just off the Great Room featuring a vintage refrigerator with complimentary sparkling juices, soft drinks, and ice and a counter full of inn-baked desserts, fresh fruit, gourmet organic French roast coffee, and hot water for individually-wrapped teas.
The Great Room with its open beamed high ceiling and expansive picture windows offers a commanding ocean view. Grab the house binoculars for a closer look at the sea lion colony on the ocean rocks below or just relax on a sofa with a local newspaper magazine.
If it's the scent of the salt air you crave, step outside onto the glass-paneled redwood deck adjoining the Great Room or follow the meandering path over the bluff to the two-tiered "Whale Watch" deck with its rocking chairs and chaise lounges…a great spot to unwind to the rhythms of the ocean and feel the rush of a slight sea spray ascending on a billowing breeze.
In the morning, a hearty full breakfast buffet awaits you, fresh baked in the inn kitchen, and ready at 9 a.m. Your breakfast may be a quiche or casserole egg dish, country-style or scalloped hot potatoes, and yeast rolls. A fresh-cut fruit salad, granola, yogurt, and orange juice are standard breakfast faire. For the early riser, fresh organic French roast coffee is available from 7 a.m. and coffee cake hot from the oven at 8 a.m.
If you decide to venture out beyond the grounds of the inn, you will discover a diverse area. Less than a mile walk is the entry to the special 632-acre ocean front Patrick's Point State Park with it's huge rock headlands, promontories, and miles of trails.
As part of the Pacific Flyway, one of four continental migration routes, the area is a bird watcher's haven. Big Lagoon 5 miles north, is an important resting and feeding site for thousands of birds. Redwood National Park is only 15 miles north with 40 miles of coastline and 106,000 acres of protected redwoods. Always exciting to see are the elk herds often encountered roaming the park lands.