Restaurants and Dining in Trinidad, Ca
Redwood Coast Dining Reviews
Note: All Trinidad, California restaurants reviewed here are rated based on feedback from hundreds of informal conversations with guests at the Turtle Rocks Oceanfront Inn in the last 12 months
Note: All surrounding area dining in McKinleyville and Arcata, California is more subjective with less input from guests at the inn
First the ratings of the restaurants serving dinner only:
Trinidad, California has three exceptional dinner houses. The Larrupin' Cafe, Moonstone Grill, and the Sunset Restaurant are among the very best on the West Coast.
1) The Larrupin' Cafe in Trinidad, CA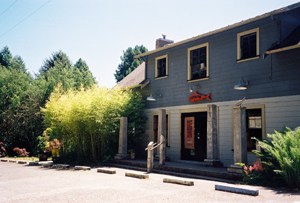 Turtle Rocks Inn Restaurant Near by
Based on our informal survey, this wonderful dinner house is number one in Trinidad and the surrounding area. Dinner only 5:00 pm to 9 pm seven days per week.
Since its inception over 25 years ago, this restaurant has been a Humboldt County favorite and for good reason. Always a very creative place, the name "Larrupin" means "extremely delicious". It was the highest praise a western cowboy could give to a cook on the food he or she prepared usually on a long cattle drive back in the mid-1800s often leaving and returning to Dodge City, Kansas. A cowboy might exclaim (as he took his cowboy hat off and hit it on his leg for emphasis) "that was larrupin' good!!"
On that theme, the Larrupin' Cafe has long produced a delicious line of sauces called "Larrupin' Goods" that are sold in local grocery stores (our favorite is the Larrupin' Goods Mustard Dill Sauce).
Although the restaurant's name has cowboy roots, the motif is very eclectic. One of the two creators of Larrupin' was Per who grew up in Norway and was an experienced fisherman and gifted carpenter. Per and his wife Dixie extensively remodeled the building they purchased 20 years ago and they created a unique ambience.
The restaurant sits on two beautifully landscaped acres There is no ocean view but is surrounded by lush forest. There is dining inside on the first and second floors and in the summer months there is a very nice outside patio with large overhead heaters on cool nights.
Musicians ( usually a solo artist or duo ) perform on Wednesday and Sunday nights year-round. In the summer and early fall, most performances are on the patio.
The food is "the thing" at the Larrupin' and the guests at our inn typically love it. The comments invariably touch on the delicious creativity of the entrees and appetizers and the generous portions. Guests search for terms such as "continental", " California nouvelle", "amazing", and "unique" to describe their experience. Many of our guests stay at the inn for three or more nights and dine at a different restaurant each evening.
Only rarely does someone rate any restaurant above Larrupin' Cafe. The most common complaint is the service can be slow especially later in the evening. I recommend to our guests to go between 5 pm and 6:30 pm if faster service is an issue. If not, it is a very pleasant place to hang out.
The driving force behind this wonderful cuisine is Paul Fitzgerald, who relocated a few years to Trinidad from San Diego and took over as manager and head chef . Brilliant, dedicated, and a true "people person", Paul is much more than a manager and chef. One of our guests recently commented that when Paul came over to their table , they thought he had to be a movie star because of his tall, dark and handsome good looks!
Since his arrival he has taken Larrupin' Cafe to new heights In fact, rarefied heights. Paul's attention to detail and his creative talent as a chef shines through , from selecting the organic produce (most often locally grown), to finding the best fresh-caught salmon and halibut or organic free-range New Zealand venison or locally raised grass-fed beef., the famous Humboldt County goat cheeses… too much to list here…
Dinners include an appetizer board that has goat cheese, sliced apples, a pate, mustard dill sauce, and dark pumpernickel bread made at the restaurant each day.
Entrees range from seafood like the Soy and Ginger Cod and fresh-grilled Snapper to lamb chops and the Angus Filet Mignon.
The Smoked Beef Brisket is often mentioned by our guests as being wonderful. It is smoked 36 hours then finished on the barbecue served hot and spicy.
Specials of locally caught halibut and salmon are often offered.
For vegetarians, there is the stuffed Portobello mushroom, tofu kabobs, and Spanokopita (Francine's favorite… a phyllo dough pastry concoction with fresh spinach, chard and cheese with a dash of spices… superb).
All dinners have a house salad, choice of wild rice or risotto, twice-baked potato, honey-maple sweet potato or seasonal vegetable.
There is an extensive wine and beer selection.
Dinners are served nightly from 5 pm to 9 pm.
Credit cards are accepted.
Larrupin' Cafe is located on 1658 Patricks Point Drive in Trinidad. It is just two miles south of the Turtle Rocks Oceanfront Inn on the same road.
Reservations are essential and can be made by calling 707 677-0230. All guests at the Turtle Rocks can have reservations made by the innkeepers.
2) Moonstone Grill in Trinidad, CA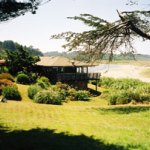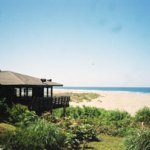 "The Grill" is a strong number two in our informal ratings. Dinner only 5:00 pm to 8:30 pm Wednesday through Sunday. In the winter months, it is closed on Wednesday night.
This restaurant would be the best almost anywhere else. It is that good. One guest commented that Larrupin' is the cutting-edge creative Northern California and the Moonstone Grill is the more traditional New York. Both are terrific dinner houses with different approaches to cuisine.
Moonstone Grill's oceanfront setting on acreage is the most magnificent and profound of all of the areas restaurants. It overlooks Moonstone Beach and the Camel Rock and the mouth of the Little River flowing into the Pacific Ocean. Truly sublime. The building is older but well-maintained with a bank of west-facing windows with panoramic views from all of the dining tables.
Moonstone Grill is run by a group of entrepreneurs that also own the Plaza Grill in Arcata and the Abruzzi in Arcata (both in the Jacoby Storehouse on the Plaza town square in Arcata about twenty miles south of the Turtle Rocks). All of their restaurants are excellent with the Moonstone Grill being their flagship. Chris Smith is the manager and does a great job keeping everything at a consistently high level.
The property is leased from the Merryman family, pioneer Trinidad landowners that ran a restaurant in the same building for many decades. The former "Merrymans Restaurant" was well-known for its wonderful bar and many locals would go there just to have a drink or two and watch the sunset. The Moonstone Grill has retained the bar and provides a nice place to wait to be seated if you arrive early.
The Moonstone Grill has an excellent menu, more traditionally prepared , more a la carte than Larrupin' Cafe, and offers house specialties not available in other area restaurants such as California Red Abalone Medallions and Butter-Poached Maine Lobster and on request with one week's notice Whole Maine Lobster. Their crab cake appetizer and their Ribeye steak are often praised by guests at our inn.
The full bar also has an extensive wine and beer selection.
The Moonstone Grill is located on the very south border of Trinidad about 6 miles south of the Turtle Rocks Oceanfront Inn on 100 Moonstone Beach Road which is off of Scenic Drive.
Reservations are essential and are made by phoning 707 677-1616.
Credit cards are accepted.
3) Sunset Restaurant in Trinidad, CA
Coming in a very close number three to the Moonstone Grill, the Sunset Restaurant is part of a larger casino complex located about 5 miles south of the Turtle Rocks Oceanfront Inn on Scenic Drive. Dinner only 5:00 pm to 9:00 pm seven days per week.
This beautiful restaurant is on the north end and the second level of a large building that is known as the Cher-Ae Heights casino owned and operated by the Yurok tribe. You can go to the restaurant and never enter the main part of the casino.
There is a beautiful view of the ocean and Trinidad harbor through the trees from the dining area. As the other restaurants in Trinidad, it is non-smoking.
While not as creative a menu as the Larrupin' Cafe and not as overpoweringly spectacular a setting as the Moonstone Grill, this restaurant is very nice, well-run with excellent service, well-appointed, with an outstanding ocean view and has a very good selection of entrees and appetizers.
The Sunset Seafood Fettucine Alfredo with its sauteed prawns, jumbo sea scallops and lobster is a favorite of our guests.
There is an excellent selection of wine and beer and a full bar service from the casino.
Reservations are recommended and are made by phoning 707 825-2760
Address: 27 Scenic Drive, Trinidad, CA 95570
Second to be rated are other recommended dining and food options in Trinidad and the surrounding area ( not dinner houses ):
4) Luzmila's in McKinleyville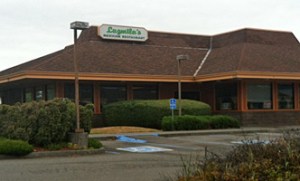 I love this place and think it is the best bang-for-your-buck anywhere. Lunch and dinner 11::00 am to 9 :00 pm seven days per week
While technically not a dinner house, it is more a no- frills coffee shop atmosphere with booths, large lunch counter seating, and even a separate room for large groups. Very spacious, large windows , lots of light, with a Mexican motif and authentic Mexican music with lots of trumpets blaring. There is ample off-street parking.
Located in the heart of McKinleyville on Central Avenue twenty minutes south of the Turtle Rocks Oceanfront Inn, Luzmila's is definitely worth the drive.
Often Luzmila the owner is working there and is a terrific hostess that remembers your favorite entrees and appetizers. The food is "the thing" and sets it apart in a class by itself for Mexican food. If ever there was a place deserving of wider recognition, this is it.
The Deluxe Tostada (chicken, beef or tofu) and the 2 Enchilada (chicken, beef, or tofu) and Salad are favorite lunch meals and the side order of Chicken Taquitos could not be better. This incredible place does traditional Mexican dishes to perfection.
There is an excellent dinner menu including a Ribeye steak,with avocado, red onions and tomatoes and combo fajitas of shrimp, beef or chicken.
There is a good selection of beer and wine, hard lemonade, and margaritas (lime, strawberry, mango, peach or blackberry).
Reservation are not required except for large groups.
Credit cards are accepted.
Address: 1751 Central Avenue, McKinleyville CA 95519
Phone: (707)839-1624
5) The Lighthouse Grill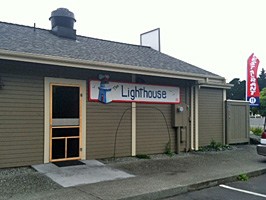 Informal lunches served here daily. In the same village of Trinidad location as the now defunct "The Catch", the Lighthouse Grill opened in the fall of 2012 and has carried on a similar theme of gourmet fast food as its predecessor. You walk up to the counter and place your order.
The building was remodeled with a new addition on the west side allowing for inside tables and a nice new bathroom. There is also a small fenced outside area with tables. Paintings by local artists adorn the walls and lots of windows bring in natural light and look out mostly at the parking lot of the village shopping center that is ringed with redwood forest to the east and south and is now called "Saunders Plaza". This is the center of commerce in Trinidad which includes the Murphy's Market groceries and deli , the post office, a real estate business, Salty's (surfboard and bike rentals) and a few other small businesses.
Guest at our inn especially like the creative soups prepared at the cafe, the homemade ice cream, and the hand-cut fries.
Everything from burgers with Humboldt grass fed beef, tofu burgers, fried chicken sandwiches, and fish and chips to a Greek salad with romaine lettuce, cucumbers, scallions, cherry tomatoes, kalamata olives, and feta are served here.
Recently a guest reported a special of blackened cod that was very good and also a special of ribs is served often.
This cafe proudly states at the bottom of the menu that they are "The Home of the Mashed Potato Cone!". Have no information on this cone at this writing!
Address: Saunders Plaza, Murphy's Parking Lot, Trinidad, CA
Phone: (707)677-0077
No reservations taken. Walk-in business only.
6) The Seascape in Trinidad, CA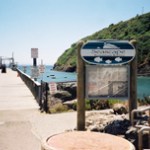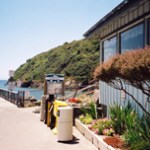 This venerable old diner lies next to the pier in Trinidad harbor and between Little Head to the east and the much larger landmark Trinidad Head to the west. There is a great salt air sea breeze atmosphere with fishing boats coming and going and you really know you are by the sea. Pier Beach is right below the diner (see our "Beaches" on our website). Fisherman are often crossing the pier with their gear and their catches of fresh fish and the boat launch is close by.
The building is older but well-maintained and has many windows overlooking the beautiful and interesting scenery. The interior is wood-paneled with tables and booths for seating.
Most of the locals I know go there for a bowl of the excellent clam chowder and the homemade desserts especially the pies.
Also the crab salad and crab louie during crab season.
You can order a full lunch or dinner here but my experience and guests at the inn report the food often is mediocre. Stick with the clam chowder and pie. There are too many other better alternatives in Trinidad and surrounds for a full lunch or dinner.
No reservations required. Walk-in business only. Credit cards accepted.
Address: Foot of the pier on Trinidad Bay
Phone: (707)677-3762
7) The Eatery in Trinidad, CA
Located in the heart of the village of Trinidad, this excellent diner with booths has been closed since the fall of 2012.
The real estate and business were sold several months ago and a new "The Eatery" has just reopened. Too early to review.
Address: Corner of Trinity and Parker Streets, Trinidad, CA 95570
8) The Beachcomber Cafe in Trinidad, CA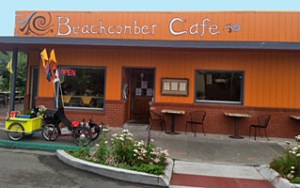 Long a favorite of locals stopping in for a cup of coffee and an egg bagel or pastry, this small cafe in the heart of the village next to the City Hall serves breakfast and lunch from 7 am to 4 pm Monday through Friday and 8 am to 4 pm Saturday and Sunday. Nice ambience. Some food is gluten free and their homemade pies are delicious. Service is not super fast here and you need to bring your own cup if you want your coffee "to go." This is also Trinidad's only internet cafe.
Address: 363 Trinity Street, Trinidad, CA 95570
Phone: (707) 677-0106
Murphy's Market
Although not a restaurant, the Murphy's Market has an excellent deli that makes sandwiches. Well-run with lots of organic choices. Great place to stock up for a long afternoon of beach combing and redwood hiking. Also has extensive wine and beer selection.
Phone: (707) 677-3643
Address: Main St & View Ave, Trinidad, CA
Katy's Smokehouse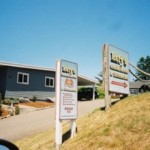 Not a restaurant, just a great place to pick up some of the best smoked salmon on the planet.
Phone: (707) 677-0151
Address: 740 Edwards St, Trinidad, CA